September 8, 2019 - January 6, 2020
"Human Being", William Wegman solo show at MASI, Lugano, CH
-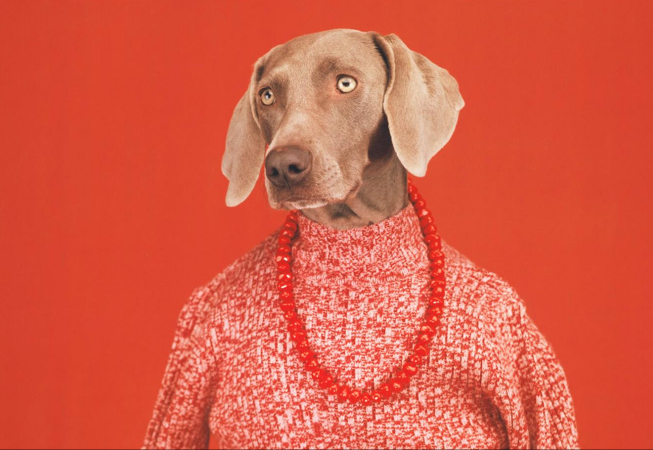 MASI, in collaboration with the Foundation for the Exhibition of Photography, presents a major exhibition dedicated to the world-renowned American artist, William Wegman. The photographer focuses his works on his relationship with his Weimaraner dogs, combining a documentary style of photography with careful set designs, and often loading his shots of a subtle sense of humor. The exhibition features about a ninety works, revealing Wegman's ability to create funny, impressive, surrealist images.

The exhibition
William Wegman, an eclectic master of contemporary American art, is a renowned, versatile artist who resists an easy classification, as he moves adroitly between painting, drawing, photography, film, video, books and performances. He rose to prominence on the international art scene for his series of images featuring his dogs. Ever since he met his first Weimaraner - whom he called Man Ray - in the seventies, the photographer has made dogs of this breed the main focus of his photographs, using this rather unusual muse to portray characters, comment on fashion trends and address movements in art history with great perspicacity and irony.
His Weimaraners Man Ray, Fay Ray, Penny, Bobbin, Chip, Chundo, and Crooky, and several generations of their pups, are the focus of his big Polaroids: unique and unretouched photographic prints, underlining the photographer's skill and his subjects' spontaneity and demonstrating the artist's exceptional harmony with his dogs. Every shot may be viewed as the result of a partnership, rather than the creation of a single craftsman. Being Human looks back over the evolution of this unusual artistic partnership that has lasted thirty years, serving as a kind of mirror of human nature.
The exhibition includes a selection of about 90 Polaroids along with a dozen pigment prints selected by exhibition curator William A. Ewing in close collaboration with the artist and divided into chapters, each of which brings together works which address a specific theme, or which are connected by similar visual allusions. The project is implemented by the Foundation for the Exhibition of Photography, Minneapolis/New York/Paris/Lausanne and has inaugurated at the "Rencontres d'Arles" in summer 2018, event that marked the start of a four years tour which will include stops in Australia, New Zealand, Asia and Europe. Lugano is the first European stop.