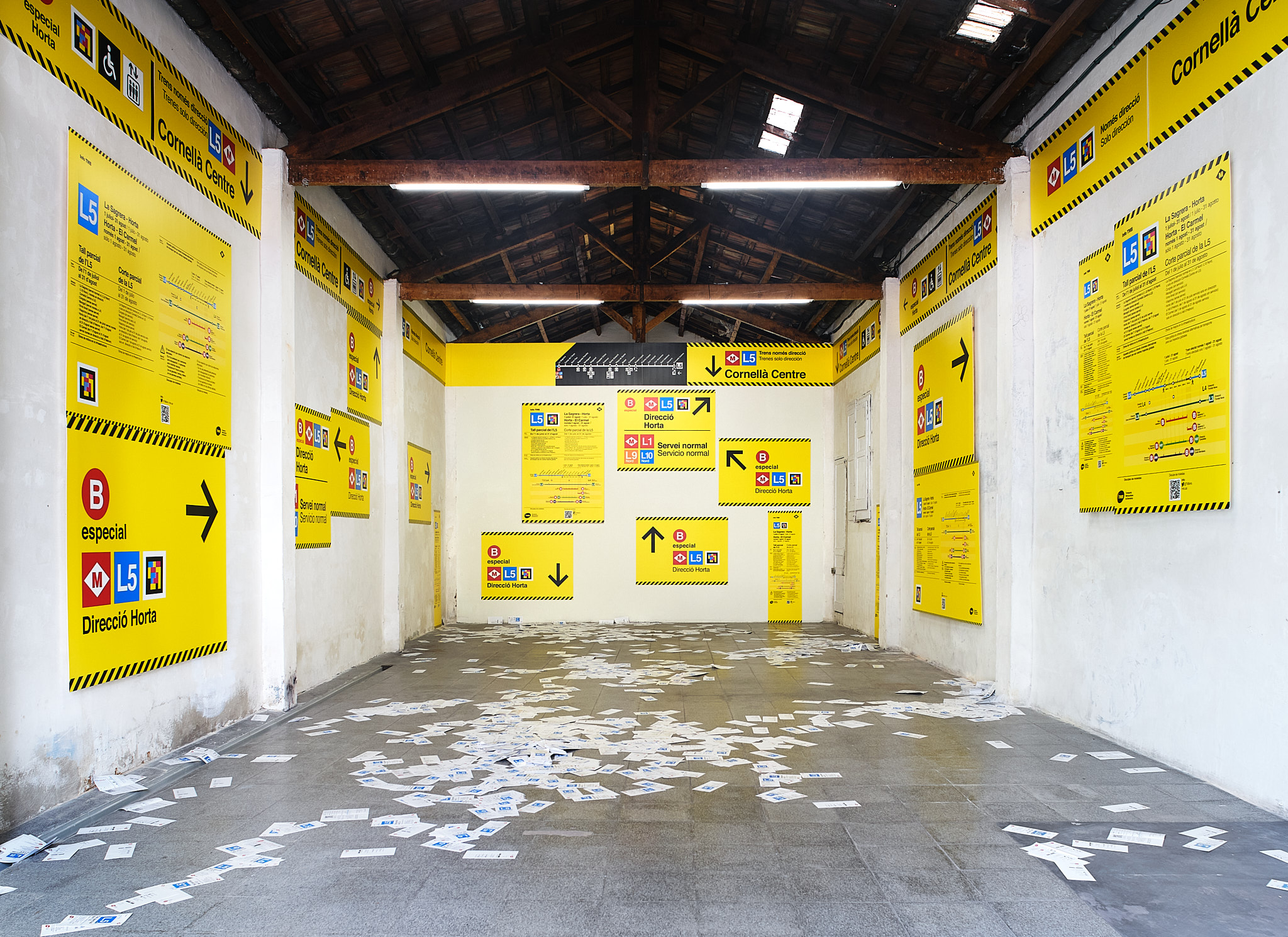 Francesc Ruiz presents a new body of work that delves into the imaginary of contemporary distribution and logistics and that manifests itself in the materiality of large-format printing, corporate signage, video and detourned comics. "Diversion", 2022, is a new installation where he reconstructs in the gallery space the entire information conglomerate used to manage and maintain the flow of users of the public transport network during an exceptional cut due to improvement works."Asoul", 2021, is a video where, from a set of found footage, it evokes different forms of movement and circulation of human and non-human beings, interspersed with images that show us an overflowing nature on the verge of collapse.Finally, "Tired", 2022, is a set of drawings where comics and ubiquity intersect from the claim of the mascot of a well-known tire brand.

More about the installation "Diversion" (2022):

This summer, due to improvement works, the L5 metro service was interrupted between La Sagrera and El Carmel stations. In order to redirect the flow of users to alternative routes, a whole visual communication campaign was designed and deployed along line 5 and, in a more intensive way, at the transfer, the lobbies and the accesses to the Sagrera interchange.

The chaotic profusion of signage was reminiscent of how, during the recent pandemic, a whole new series of emergency communication protocols were improvised to continuously inform of prohibitions and obligations in the use of social space.

An architecture of control expressed, in spite of everything, with the simplicity of the graphics of the Barcelona subway, derived, like almost all, from the pioneering work of Harry Beck; known for having shaped the modern map of the London Underground.

Beck's contribution, who was an electronic engineer, was to recreate the underground network as if it were a printed circuit, giving a different color to each line and equalizing the distance between stations, detaching them from the real London map.

This distancing from the real that has every concept but also every ideology, when simplified in pursuit of a communicative optimization, ends up dangerously defining the way in which we build our subjectivity. The algorithm, the interfaces, the apps, any element of mediation, facilitates access to information and hides it at the same time.

This is how a diversion, any diversion, can actually be a straight line. Conversely, a straight line can almost always hide a diversion.